MICHELIN MACHXBIB / XM28
Ploughing
Soil Preparation
Agricultural Transport
Agricultural Handling
MICHELIN
MACHXBIB / XM28
Ploughing
Soil Preparation
Agricultural Transport
Agricultural Handling
A multi-purpose, fuel-efficient tyre for powerful tractors (>160 HP)
Versatility
Fuel efficiency
Robust
VERSATILE
Ideal for high horsepower tractors with:
• High load capacity when working in the field
• Excellent damage resistance
• Speed capability of up to 65 km/h(1)
PROVEN CASING ROBUSTNESS
• Flexible Robust Casing for Comfort and Reliabilty
• High Damage Resistance for increased service life
• Solid Lugs & Shoulders for excellent stability and tractive performance
FUEL EFFICIENT
4% FUEL SAVINGS, 1 litre/hr compared to the main market competitor(2)
(for a consumption on the road of 25 l/hr)
Technical Specifications
| | |
| --- | --- |
| Product | MICHELIN MACHXBIB - 600/65R28 |
| Overall Diameter | 1502 mm |
| Section width | 615 mm |
| Recommended rims | DW20B(A)x28 |
| Approved rims | DW18Lx28 | W18Lx28 |
| Mini Dual Spacing | 760 mm |
| Rolling circumference (mm) | 4449 |
| Filling volume 75% (lts) | 424.5 |
| Tread depth | 51 mm |
| Load Index | 154 |
| Speed Index | D |
| CAI | 055335 |
Pressures (bar and psi) & Loads (kg and lbs)
bar

psi

0.4

6

0.6

9

0.8

12

1

15

1.2

17

1.4

20

1.6

23

1.7

25

1.8

26

1.9

28

2

29

2.2

32

2.4

35

2.6

38

2.8

41

(kg - lbs)

10 km/h

6 mph

2250

4960

2605

5743

2960

6526

3315

7308

3660

8069

4005

8830

4350

9590

4455

9822

4565

10064

4670

10296

4775

10527

4990

11001

5205

11475

5415

11938

5630

12412

30 km/h

19 mph

1690

3726

2010

4431

2335

5148

2655

5853

2975

6559

3300

7275

3620

7981

3705

8168

3795

8367

3880

8554

3965

8741

4140

9127

4310

9502

40 km/h

25 mph

1915

4222

2250

4960

2580

5688

2870

6327

3160

6967

3450

7606

3530

7782

3615

7970

3695

8146

3780

8333

3940

8686

4105

9050

40 km/h Dual

25 mph Dual

1415

3120

1700

3748

1985

4376

2270

5004

2525

5567

2780

6129

3035

6691

3110

6856

3180

7011

3255

7176

3325

7330

3470

7650

3615

7970

50 km/h

31 mph

1840

4057

2155

4751

2465

5434

2780

6129

3045

6713

3305

7286

3385

7463

3465

7639

3545

7815

3625

7992

3780

8333

3940

8686

65 km/h

40 mph

2360

5203

2625

5787

2885

6360

3150

6945

3225

7110

3300

7275

3375

7441

3450

7606

3600

7937

3750

8267
**IMPORTANT
The inflation pressure must always be appropriate for the load per tyre, the speed of travel and the work to be done. Our recommendations above are provided subject to changes made after the date of publication of these tables (December 2020). Technical data is subject to change without prior notice.
Picto visuel contact hero image yellow bib heart Tyre
Find out more...
Find technical and commercial information about this tyre in our product datasheet
Other tyres that might also interest you
MICHELIN


AXIOBIB
Improved traction and soil protection for very powerful...
View this tyre
MICHELIN


AXIOBIB 2
High traction capability for heavy loads and tractors f...
View this tyre
MICHELIN


ROADBIB
The solution for heavy road use (>80% hours on the road...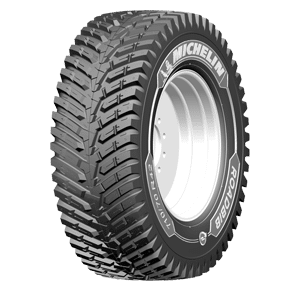 View this tyre
(1) When authorized by the laws in force in the country - depending on the size
(2) Analytic Test at MICHELIN Tracks Ladoux Centre, in June 2014 comparing Fuel Consumption of 710/70R42 Michelin MachXBib and 710/70R42 Trelleborg TM900